CHAMPLOO*ISM was created with
Photoshop 7 and Dreamweaver MX
and some hand-coded tinkering.

Site open: November 2005

Fonts used in site graphics are:
Graffiti Treat by Ray Larabie
Tags XTreme by Pizzadude
and Silkscreen by Jason Kottke

Custom brushes generously provided
by 8nero.net and MissM.








All artwork on this site is original, not copied from or adapted from official goods, with the exception of two desktop images.
Please do not reuse or repost fan art without permission. Selling reproductions of fan art from this site is strictly prohibited and is just a douchebag move in general.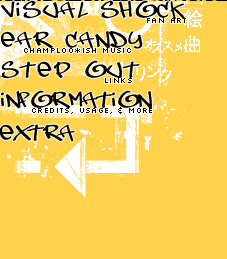 About the webmaster:

Name: EK
Age: Old
Sign: Libra
Place: Texas

Likes:
coffee, music of all kinds, spicy things

Dislikes:
amaretto, humid days, bland things

And Samurai Champloo:

Favorite character: ...all 3...
Favorite episodes: 24-26, 15
Favorite music: Hiji Zuru STYLE
Favorite pairing: ...


...

all 3

*o.o*