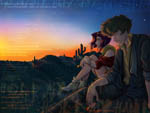 I was countin' through the night ride 1024x768 - 800x600
Pheww. About time I used original artwork in a wallpaper. This is the gift art I did for Agent Orange, based on the story "The Cowboy's Unofficial Guide to the Open Road". Fonts are Collateral Damage, Ice Age, UnkleTom, and (of course) Blue Highway. Sketched in Painter 5, colored in Photoshop 6.
Lyrics are CSN's "Southern Cross" (Hush, you) and Indigo Girls' "Chickenman" (I said HUSH!). I actually quoted "Chickenman" on a previous image that resembled this one, and in Ice Age, too. Vwee.